Oscars 90: The Love and Laughs over Nine Decades.
As we look forward to the Oscars90 – that is – the 90th Annual Academy Award ceremony this year, there's no better time to look back at the most memorable moments deemed laughable, lovable and laudable spanning nine decades.
When you think Academy Awards, there's no escaping the ostentatious gambit of it all and let's be honest, second to announcing winners for all their filmic efforts with the gilded statuette that is Oscar, it's the sartorial splendour of it all.
FROCKS
Walking the red carpet started in 1961 and throughout the years many have made memorable fashion statements including Kim Basinger in a dress she made herself Gwyneth Paltrow in a dress in 1992 and Diane Keaton in a tux in 2004. One of the most iconic outfits was worn by Barbara Streisand in 1969, in a trouser suit which left a little to the imagination – something that can also be said of said of Cher in 1986.
Jamie East, a British Broadcaster and Film Critic said: "Cher turned up in a stripper Mohawk in protest of not being nominated for Moonstruck. Unsure what she was protesting to or what the purpose of it was. Enormous head dress but barely any dress". Cher ironically remarked: "As you can see I received my booklet from the Academy Awards on 'how to dress like a serious actress'.
Meanwhile, 'serious actress' may have been the luck that the creators of Southpark were going for in the year 2000. Edith Bowman, British Broadcaster and Film Podcaster: "They may not have the best legs in the business but I commend them for the balls they had to come dressed in other iconic dressed, to the likes of Jennifer Lopez Versace and Gwyneth Paltrow's Oscar winning dress.
Björk certainly went for it, in her iconic swan dress in 2001. An outfit that got the whole world talking Björk has a reputation for pushing boundaries and the Oscars are no exception so she dressed as a White Swan and laid an egg which was her clutch bag on the red carpet. Jamie East: "I don't know whether she was being incredibly fashionable or incredibly dreadful. Robbie Collin: Film Critic for The Telegraph said: "If you look at what happened to the dress afterwards it was auctioned for charity and found a place in the New York museum for modern art so that lock has really endured and it made a statement. Probably propelled bjork's level of fame tenfold."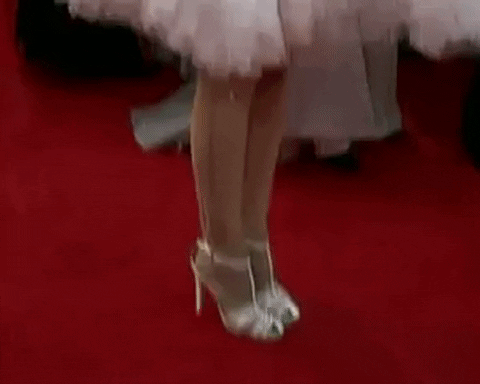 Also in 2001, Pretty Woman's Julia Roberts, took class a whole new level with her choice of Valentino for her Best Actress nomination. She is one of those Hollywood stars that's timeless
And another leading lady who dazzled the red carpet on her Best Actress winning night was Halle Berry in and Ellie Saab gown in 2002. The flowers, the diaphanous top, stunning. The bodice was like a garden.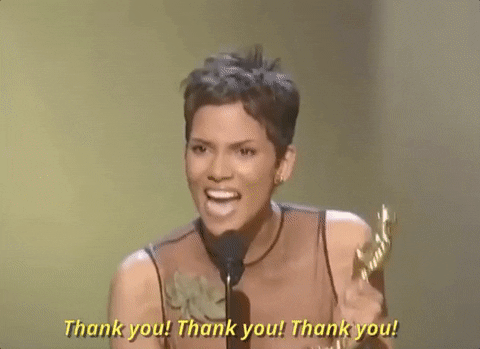 In 2015, Reese Witherspoon sparked an 'Ask her More' movement to shift focus from what they were wearing. Did it over IG. Dresses are important and they're big part of the Oscar experience but it's not the only thing The men turned up and were being asked about their work in acting and show business. If people don't see the actress through the dress, have they achieved anything? So ask about their projects and poignant parts in their career.
Academy awards night has seen some incredible openers by some of the worlds biggest stars from the Oscars first televised broadcast with Bob Hope to Billy Crystal, Whoopy Goldberg to Ellen DeGeneres. The most glitzy and high-pressure presenting gig in the world.
"Presenting the Oscars is one of the most difficult jobs in show business. Got to be glitzy and glamorous and insider but not too insider or cosy", Helen O'Hara – Empire Magazine.
The good hosts stand out from the not so good is if they throw a gag at random or they're reactive but everyone knows it's scripted.
King of Oscar hosts was Bob Hope Who presented the awards 19 times between 1940 and 1978 and became the barometer by which future hosts were measured against.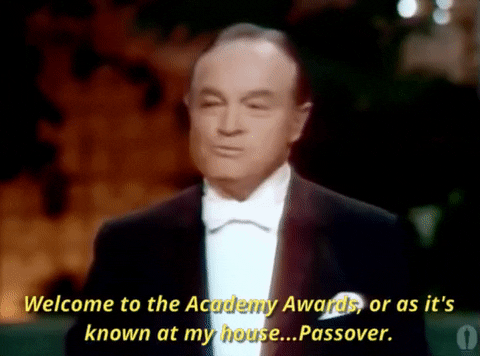 But perhaps one of the fondest and remembered hosts of later years is Billy Crystal having done it nine times between 1990 and 2004. Helen says Billy has the balance between being insider and not too insider in that he knows everyone in Hollywood but isn't beholden by them.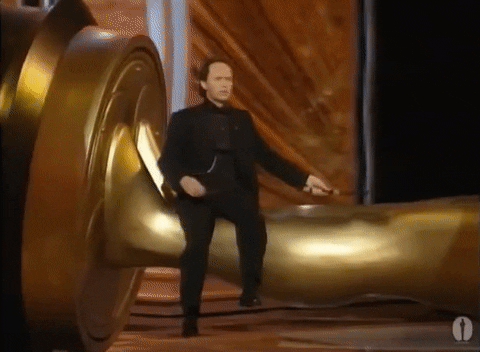 In 1994 Whoopi Goldberg became the first solo female host of the Oscars and went on to host another three times cementing her place in Oscar history. She smart likeable and funny so you have confidence in her
Meanwhile the most underrated Oscar host of them all is Steve Martin. He punctures pomposity in everyone else: "Please hold your applause until it's for me". He once quipped: "Hosting the Oscars is like making love to your wife I only get to do it when Billy Crystal is out of town".
Then Ellen – the second only female host when she appeared in in 2007. She returned in 2014 and made history of a different kind. THE OSCAR SELFIE! You felt like part of the ceremony and part of the gang somehow and it was a moment in which the selfie became a moment in itself in that this is what a selfie can be all should be.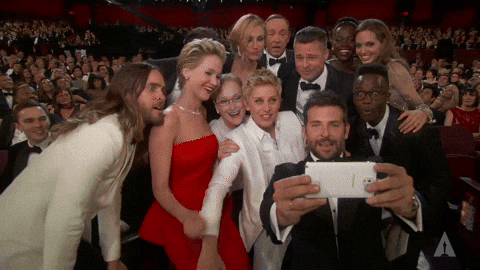 Over the last 90 years the Oscars have been a place for innumerable Historic firsts. Shifts not only in cinematic history but shifts in social history to. Hatti McDaniel (Gone with the Wind) becoming the first African American winner in 1940. Charlie Chaplin and Alfred Hitchcock receiving honorary awards for their legend dairy work and in 2010 Kathryn Bigelow becoming the first female director to win an Oscar. She won at a time when segregation was at its peak. Then Lillyfields won 30 years later for best actor. What a shambles it was considered a moment. Oscars indicative of social change and has a way of reflecting society back at us.
Alfred Hitchcock is seen by many to be one of the greatest directors of all time but he never won the Oscar for his craft he did finally win a memorial award in 1968 50 years after he made his first film and all he gave back was a well-placed well meant thank you and walked off stage. And the curse of the great director in waiting seem to fall on another great until after another 50 year career – Martin Scorsese finally won his Oscar in 2007 which Spielberg presented to which everyone gave a standing ovation.
Charlie Chaplin never won an Oscar for his craft but was presented with an honorary award in 1972 and received the longest standing ovation in Oscar history and he was lauded after being shunned by America and the academy itself. To compensate for this, The Academy gave him a full 12 min ovation!
Then Matt Damon and Ben Afflek speech made history for winning. Good Will hunting (which they both wrote). The sight of two twenty-something-year-old guys being fast tracked to the Hollywood A-list was admirable. The camaraderie between them both was so evident.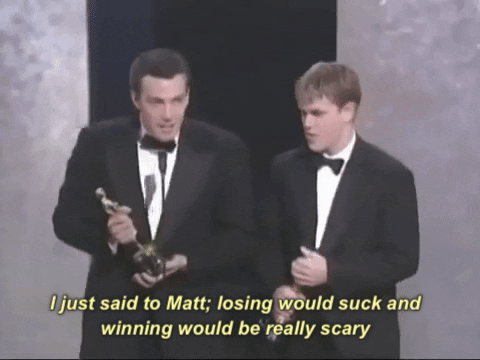 And finally Leonardo DiCaprio won Best Actor for The Revenant and the plug around his film made it his year at the Oscars he was bound to win his film choices have been those of what an actor would choose not a star.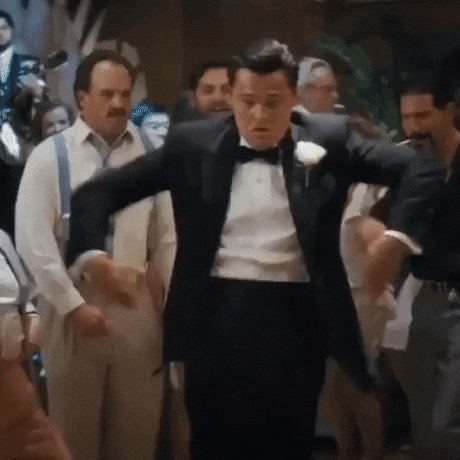 In 2002 Halle Berry delivered and emotional speech being the first black woman to win best actress and this was 70 years after Hattie McDaniel one Best supporting actress for gone with the wind for monstrous balls.
In 2010 Kathryn Bigelow made Oscar history for being the first female director to win for the film Hurt Locker. Considering we've only ever had five female directors nominated for an Oscar, we all knew she would win when the presenter said 'well the time has come'.
SHOCKS

One of the biggest shocks was in 1973 when Marlon Brando refused to accept best actor Oscar for The Godfather and deployed a Native American in protest for the treatment of them in America and for Hollywood's portrayal of them. Perhaps the first moment the Oscars acceptance window was used for a crusade.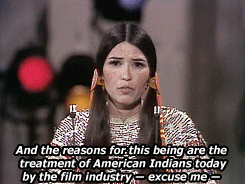 Then, David Nevins' speech mired by the streaker in 94 only a year after the Brando furore. Jaws were dropped. 'It's quite obvious that the whole world is having a nervous breakdown' speech. Preceded by the streaker running across the stage to which Nevins replies the only laugh that man will ever get in his life is for stripping off and showing his shortcomings.
In 1997, Rocky beat Taxi Driver. But it's a victory that couldn't have been more poetically perfect. Sylvester Stallone wrote it and acted on it so he was so passionate about the project. He deserved it.
Then Jennifer Lawrence won best actress for The Silver Linings Playbook but her historic moment was made when she stumbled up the stairs after they read her name and she said her mind went blank but it made her seem more endearing and real and her reaction was calm enough. The best bit of PR she could have done for herself and she was so on brand characteristic of Jennifer Lawrence. Not so bad to fall over.
What is bad however, is forgetting someone's name or mispronouncing someone's name. John Travolta presenting 'Idina Menzel' like he had the letters in Scrabble but hadn't arrange them in his mind to pronounce it correctly.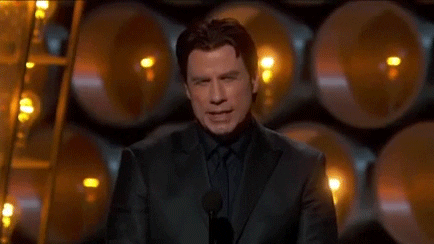 Michel Moore: Bowling for Columbine chastising Bush for sending America to war with Iraq only a day after. Security were displeased.
Patricia Arkett rallied the cause for equal pay when she won best supporting actress for boyhood
But the biggest shock most recent of them all was La La Land and Moonlight winning Best Picture instead.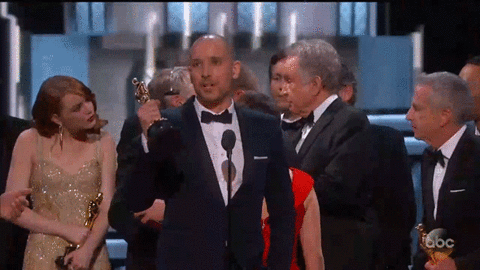 More recently: #metoo #timesup campaigns have become a unifying cause for change everywhere especially for women's rights following sexual assault scandals and Weinstein case. Stand Hollywood into realising the reality of what happens behind-the-scenes and bringing to light the scandalous nature of show business. Shaken Hollywood to its core. Questioning what they either inflicted or witnessed.
But it's when true humanity exudes, that's when it's most memorable.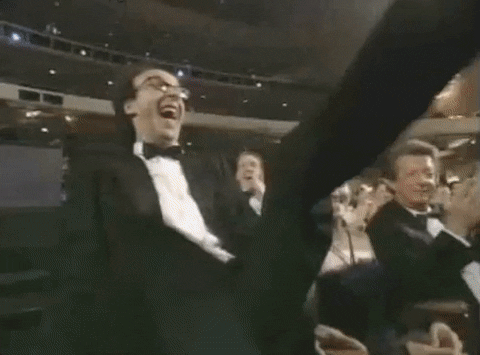 Danny Boyle, winner for directing Slumdog claimed to not remember anything of the night 'kind of like an amnesia drug that protects you from wallowing in the moment too much'.
Oscars have been around since the dawn of the Talkies. It's moved with Hollywood, moved with the times. To quote Harry Styles. "It still has the potential to remind us of greatness and why we love the movies. EVERYONE can look forward to it. The golden statuette is so iconic."
For one night in the year it lets the audience in. The Academy Awards are not only part of the industry, but part of history.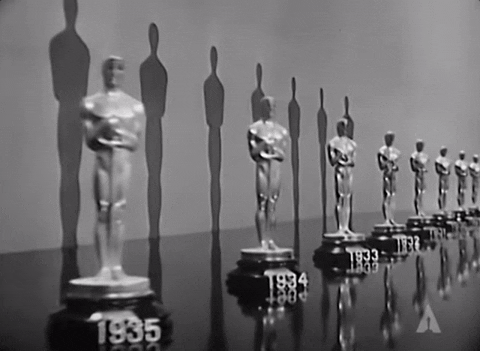 Priyanca
Priyanca.x@hotmail.co.uk